Emilia Romagna food tour - gastronomic tour
Example tours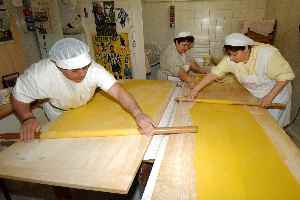 Wine and gastronomic tour of Emilia Romagna. During this tour you will have a chance to experience real balsamic vinegar, Parma ham, fresh pasta and many other genuine foods of this region.
The tour last 3 days, our clients can take the entire tour or join at any time to a specific destination.
Where
We will be visiting Bologna, Modena and Parma, historical landmarks, typical food tasting and demonstration of Parma ham, fresh pasta making, balsamic vinegar. Tasting and lunches are available during these tours.
What
In the morning in Bologna we will be visiting the historical city center and the hill top sanctuary of San Luca.
Lunch at typical Bologna Osteria in the old center with the possibility to try many of the local specialties.
Guided tour to a ham, mortadella, salami factory, with demonstration and tasting.
Agriturismo accommodation available on the nearby picturesque hills around the south of Bologna.
We will be leaving in the morning for Modena and visit a typical balsamic vinegar producer "acetaia" , demonstration and tasting. There will the possibility to purchase the product directly from the producer.
Brunch or light lunch at the acetaia with wine and traditional balsamic vinegar dished.

Afternoon visit at the historical city center of Modena. The romanesque cathedarl is Unesco heritage, there are also several museums where renaissance paintings can be admired.
Evening stay at the Agriturismo, near the city center in a quiet and beautiful location.
On day three we will be leaving for Parma.
In Parma we will be visiting a Parmigiano Reggiano cheese factory, demonstration and tasting will take place. Later on the day we will visit a Parma ham curing factory with demonstration and tasting's.
Lunch in a typical Parma's Osteria.
In the afternoon we will be visiting the beautiful parma city center.
What is included - (with accommodation and dinner)
The prices include all transports from and to your accommodation or airports. The guided tours, a accommodation in agriturismo with breakfasts and dinners, lunch is provided where indicated. Excludes all drinks.
Prices are indicated on this page
What is included - (without accommodation with lunches)
The prices include all transports from and to your accommodation or airports. The guided tours and lunched where indicated.
Prices are indicated on this page