Organic Farm stay very near to Bologna or Modena
Medieval village and organic farm stay with wine tasting.
The stay includes Parmesan production, balsamic vinegar producer visit, Parma ham visit and lunch, plus organic wine tasting at arrival.
On the lovely unspoiled hills between Bologna and Modena.
(40 minutes from Bologna, 30 minutes from Modena)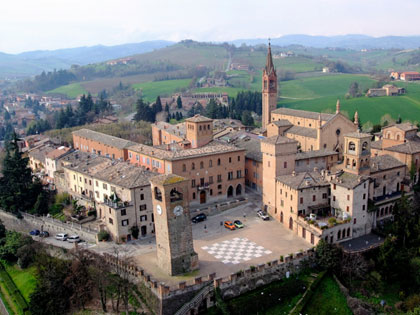 Aerial view of Castelvetro Modena
Our partner has a 5 stars beautifully restored farm on the rolling hills just 20 minutes from Modena. Our clients can spend one or more nights at this wonderfully peaceful location. The agriturismo is located 2 km from Castelvetro (picture) a fully restored medieval village. Castelvetro has been voted on the most beautiful villages in Italy, and visitors can sample 24 years old balsamic vinegar directly from the producer who owns the acetaia a inside the castle prison tower.
Castelvetro is also known for the production of one of the best Lambrusco in the Modena area.
What is included in our stay at the organic farm.
Based on 2 sharing.
The organic Agriturismo stay in Modena.
This is a fully restored and working farm just outsite Bologna on the rolling hills of Modena. The Farm produces hairloom varieties of wheat, spelt, fruit and vegetables, holiday makers can stay at the fully resored apartments in the farm, and take advantages of the restaurant, cycling and walking excursions. A very interesting stay for all nature, food and wine lovers.
A real chance to see how wine, organic flour and vegetable are grown or made, it a perfect stay for families or couples looking for a quiet retreat. This agriturismo has an organic restaurant that serves all the traditional rustic dishes from the Modena and Bologna worldwide famous cuisine, and it includes tigelle, a type of home made breads always served hot with local ham and salami, plus the organic lambrusco wine made on the farm.
While staying here it is possible to organise the gourmet food guided tours to include the Parmesan cheese production, balsamic vinegar, Parma ham, Ferrari museums, Lamborghini factory tours, Pagani workshop tours, Ferrari driving experiences.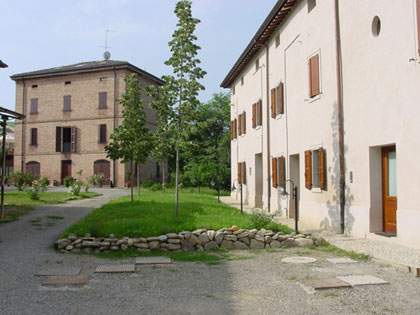 The farm in Castelvetro
What is included:
2 nights at the beautiful farm in Castelvetro in mini apartment with kitchen - possibility to harvest your organic vegetables from the allotment and cook them as you like.
Second day
Guided Parmesan visit with an English speaking guide
Traditional balsamic vinegar producer with tasting.
Organic Lambrusco wine tasting experience rustic food (all organic home made) wine pairing and vineyard/cellar guided tour.


From only 285 euros per person inclusive of guided tour and transport
Extra:
Transfers from Modena 50 euros.
Transfer from Bologna 80 euros
Organic farmer style dinner with wine (45 euros per person) available on Thursday, Friday, Saturday, and Sunday.
Cookery classes (120 euros per person)
Parma ham visit & gourmet lunch with transport (from 50 euros per person extra)
Ferrari Musuem and test drive
Pagani musuem
Lamborghini musuem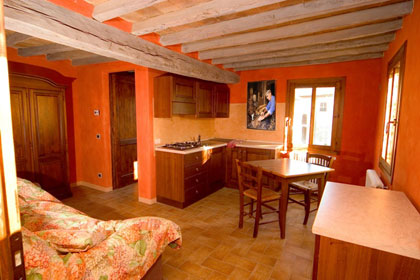 The best room at the farm accommodation