Tours of Parmigiano Reggiano Guided Factory Visits. Modena - Parma and Reggio Emilia
Parmesan Cheese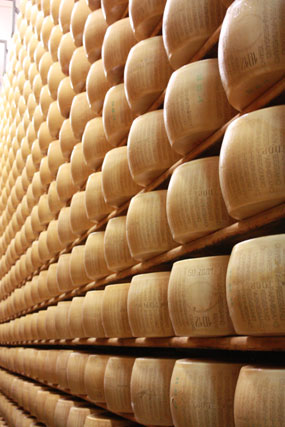 A tour just specialising in Parmesan cheese, we will be visiting the most renowned producers of this amazing cheese in the region, the tour will include visit at a local producer, a demonstration, tasting and a walking tour of the historical town centers. The tour can last one day for one city or you can combine it with other cities and visit both Parma and Reggio Emilia.
Reggio Emilia, Modena and Parma.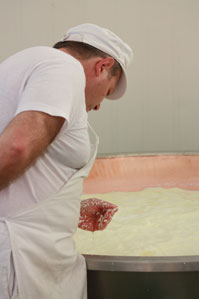 The Parmigiano Reggiano is produced in 5 provinces: Parma, Reggio Emilia, Modena, Bologna and Mantua. You can choose to visit one city per day or both cities in 2 days. We will be visiting a local producer for demonstration and tasting and we will take a walking tour in the historical center your chosen town.
We will be visiting 2 producers of cheese in the Parma area such as Casa del Formaggio and caseificio Ottorino Barani. Where the process of producing Parmigiano Reggiano can be seen. We will arrange for tasting's, and products can be purchased.
In Reggio Emilia we can visit Istituto Agrario Zanelli where parmesan is produced according tradition only from native red cows. The tour include tasting the possibility to purchase the products.
In Modena and Parma we can visit 2 farms which have a "close cycle production" from growing the alfa alfa, breeding the cows, milk production and cheese making. The result is the best tasting parmigiano you can ever try!
Wake up early and see it all!
We recommend to arrive at the farms by 7.30/8 am to see the whole process, which is highly educational and fun for adult and children.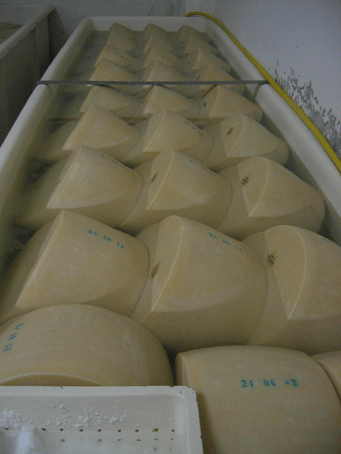 Cheese wheels salt bath at Latteria Ducale in Modena
Cheese tour?
Emilia Romagna has more than parmesan if you are interested in seeing more variety and tasting please let us know.
Lunches
This tour can include a lunch with local wine.
What is included - (without accommodation)
The prices include all transports from and to your accommodation or airports.
Please see the prices on this page.
Article by Gabriele Monti