Gourmet foods of Emilia Romagna.
A short guide to Emilia Romagna traditional food.
You might be also interested in reading about wines in Emilia Romagna
Prosciutto.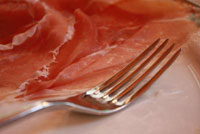 Prosciutto di Parma or Prosciutto di Modena is just one of the hundreds types of cured meats in Emilia Romagna. Prosciutto di Parma is mainly produced in Langhirano. No chemical preservatives are used in the curing and only salt it is allowed. It has a sweet and intense flavour. Try our Parma ham tour.
Culatello di Zibello.
It is a pear shaped ham aged in caves for about 14 months , it has a low fat content and it is produced only between October and February. It is a DOP produce hand made only in the foggy lands between Parma and the Po' River especially in the town of Zibello.It is highly priced by gourmet seekers. It has a weight of about 4 kg and it can cost up to 70/80 euros a Kilo.
Coppa di Parma.
Cylindrical piece of cured pork, produced all over the province of Parma. It is produced from a single cut from the neck. It has some fat veining and it is aromatic in taste. Ingredients are only pork meat, salt, pepper and spices.
Mortadella di Bologna.
Very famous 100% pork sausage produced in Bologna. A fine mix of fat and lean meats. Cubes of fat are added at the end of the process. First cured in salt and spices and cooked in a dry air stove. Mellow in taste and pink in colour, fat content is never more than 15%.
Aceto Balsamico.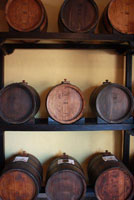 Aceto Balsamico tradizionale is an artisan gourmet condiment from the province of Modena, at present there are only 40 producers of the traditional variety. Only local grape cooked must is used, and the minimum ageing is 12 years, and 24 for the extra old. Its flavour is rich, sweet and intense it goes well with parmigiano cheese. Try our balsamic vinegar tour in Modena
Zampone.
Basically a pig trotter filled with premium pork meat, it is normally served with lentils on christmas day but it can be eaten year round in local restaurants. It is very rich flavour and it goes well with the local bubbly Lambrusco to wash down the fat.
Try our prosciutto ham tour
Passatelli.

Normally served in clear capon broth, Passatelli are made with left over bread, eggs and parmesan then the preparation is grated and cooked in the broth. They have a very delicate taste.
Tortellini.

Tortellini are a work of art in plate and of course they are edible and delicious. Inspired by venus navel (according one legend) they are fresh pasta parcels filled with a variety of local ingredient, like prosciutto, mortadella, parmigiano, pork meat and the receipe tends to vary according who prepares it. It is best to buy hand made ones.
Tortelloni.
A larger version of tortellini with ricotta spinach and herbs filling. Normally served with tomato sauce, ragu' or butter and sage with a sprinkle of parmigiano on top. In same parts of Emilia Romagna you can find a variation filled with pumpkin and amaretti stuffing.
Tigelle o crescentine.

Small little round breads baked on the fire in a traditional tigelliera pan. They are fragrant and delicious eaten with lard, rosemary and parmigiano (pesto modenese) or accompanied by traditional Emilia Romagna cured meats.
Borlenghi.

They could resemble to big crepes just made with flour and water. The are typical of the Appennini mountains near modena and they are served with pesto modenese.
Gnocco fritto.
Often served with tigelle, it is a light fried dough cut in squares or other shapes. It is a traditional dish and it is eaten together with prosciutto or other cured meat.
Zuppa Inlgese.
Inspired by the English trifle but made with local ingredients. Savoiary biscuits soaked with Alchermes (a liquor for sweets) at the bottom then topped up with egg custard and chocolate custard.
Torta Barozzi.
Torta Barozzi is one of the few food that it has been actually patented and it cannot be copied and sold with the same name. Originated from a pastry shop in Vignola (in the province of Modena) it is exported worldwide. It is an intense chocolate cake not to be missed along with a visit to the Vignola castle.