Emilia Romagna - Hidden Italy's gems and world capital of gourmet food, discover slow food today!
Emilia Romagna as world's gourmet capital.
In Italy finding bad food is almost impossible but in Emilia Romagna food reaches a new whole level of quality and interest. Parmesan cheese, Parma ham and balsamic vinegar need no introduction. This is the main (but not the only reason) why tourists want to visit Bologna, Parma and Modena: world renowned gourmet food at its best.
Slow food.
Opposed to fast food, the slow food movement has establish its self in Emilia Romagna with its slow food academy in Colorno Parmense.
This choice It is not by accident, in fact Emilia Romagna has a very long tradition of high quality, slowly produced hams, cheeses, wines, made only from locally sourced raw materials.

Gourmet and History.
But Emilia Romagna is not just about fine food and wine, its towns and cities have a lot of history and lot of architecture. We can combine food tours with guided walks to our beautiful cities.
Bologna.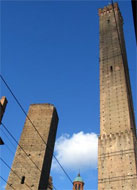 Bologna is the capital of the region and it has many fine building, piazzas and museums. S. Petronio cathedral is a beautiful example of Italian gothic style and Via indipendenza with the longest porticoes in Europe is surely and experience not to be missed. Bologna towers are another landmark that is also symbol of the city.
Ferrara.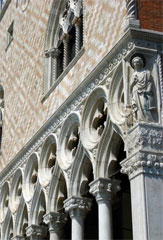 Known as the city of the bicycles. Its whole center has been designated as Unesco world heritage. There are several fine cathedrals in the town center. Palazzo dei Diamanti is seat of the National Gallery where many important painting are on show. Town of Cinema and birth place of film director Michelangelo Antonioni.
Modena.

Funded by the etruscan in 600bc. Its cathedral is Unesco world heritage. The center has gothic, romanesque, and baroque buildings. not to be missed. Another beautiful example of baroque art is Palazzo Ducale. Town of music and birth place of Pavarotti.
Parma.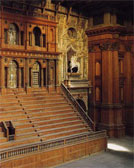 Town of classic music composer Giuseppe Verdi, opera, aristocracy. It has many treasures and remarkable buildings. Baroque, romanesque and gothic buildings are present in Parma. Palazzo della Pilotta and Teatro Farnese are two important sights not be missed
Piacenza.

Often missed by the tourists, has building dating from the Roman times, with many churches and palazzi such as Palazzo Farnese. Gothic, Renaissance, Romanesque art and buildings are in Piacenza.
Ravenna.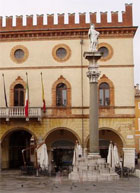 The mosaic city and it has lot of architectural masterpieces. Byzantine mosaics and worldwide famous and Unesco world heritage. Not to be missed.
Reggio Emilia.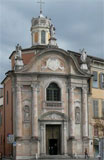 A town with a long history from Roman times. There are examples of medieval, renaissance, baroque and neo classical architecture.
Rimini.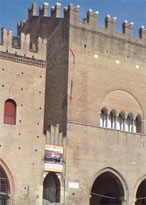 Often it does not need introduction this city because its lively night life. It has first class tourist resorts, hotels and spa. It is a city of art with a magnificent town center. Plenty to do day and night.