Gourmet and wine route from Bologna to Modena.
Castles, wines and cherry trees.
La strada dei vini e dei sapori, vini castelli e ciliegi.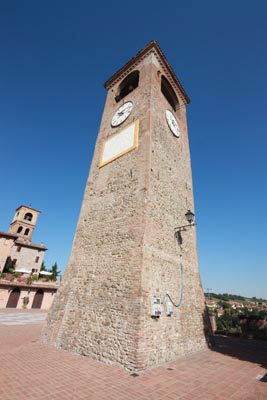 A tour from Bologna to Modena through historical towns, gourmet food, good wine and castles.
Welcome to the land of Castles, Sparking red wines, balsamic vinegar, and parmesan cheese.
Suggested itinerary, we will visit 3 of the followings
Vignola castle, stunning example of medieval architecture with coffee break stop at Pasticceria Gollini to sample torta Barozzi, the best chocolate cake in the world which is also patented!
Traditional balsamic vinegar producer with tasting in Spilamberto home of the balsamic vinegar.
Visit to Lambrusco producers with wine tasting and lunch
Visit to Pingnoletto producers with food matching experience
Lambrusco experience with sommelier and food matching in the medieval hamlet of Castelvetro in Modena.
Lunch at organic farm with home made cooking.
Visit to parmesan producer.
Bazzano
Just on the hills outside Bologna. It is recognised as city of art with its ancient history. Rocca dei Bentivolgio now a private residence, once an ancient medieval fortress. Tourists can taste many gourmet specialties of area, in this lovely small town.
Casalecchio di Reno.
Popular with the locals for week-end day trips because of its lido on the river Reno. Now a modern, lively and well connected small town. Many good food outlet and restaurant are located here.
Castello di Serravalle.
An old medieval town, just outside Bologna on the Samoggia river. The old castle is in the tranquility of the country side between vineyards, and cherry orchards. Few years back was named city of wine because of the widespread grape growing and wine making.
Typical dishes are gnocco fritto (fried dough), tigelle (small fragrant breads), borlenghi (a kind of crepe spread with lard).
Crespellano.
A lovely town situated between the low land and the foothills of the Appennini mountains. It is economy is mainly based on many local agriculture products such as parmigiano reggiano, honey, fruits, wines, and cultivated mushrooms. Traditional foods are tortellini, tagliatelle, salami and other cured meats.
Monte San Pietro.
Citta' del Vino or wine city is a producer of good quality wine, such as Colli Bolognesi. It is also a producer of chestnuts another typical product of Emilia Romagna.
Monteveglio.
A small municipality bordering with the Modena province. With its abbey dating to Matilde di Canossa and a nearby national park, it has natural and historical interest. Producer of Colli Bolognesi wines, cherries and parmigiano reggiano.
Sasso Marconi.
An ancient medieval town built of the cliff between 2 rivers. The area is rich with Roman and Etruscan remains. The town has historical interest as well as beautiful natural views. A visit to this town will enable you to taste many of the local gourmet specialities such as truffles, mushrooms, chestnuts. Surprisingly it is also a land where olive oil was cultivated and after 200 years this art is being re-discovered.
Savigno.
On the Appennini it is suitable for many outdoor activities such as hiking, cycling and naturalistic/historical activities. Named city of flavours because of the presence of white truffles, popular with mushroom hunters, gourmets and restaurateurs.
Vergato.
A small hamlet popular with summer tourists because of the chestnuts woods and renowned because of its mineral water which can be collected from 12 fountains.
Zola Predosa.
A small dynamic foothill towns. Names citta' del vine, city of wine because the production of excellent quality wine. In addition to traditional products liquors and Bologna sausages can the sampled here.
Castelnouvo Rangone.
The town and its territory is rich in natural and historical features. It is also famous because of its cured meats such as prosciutto, culatello, cotechino and zampone a sausage made from pig trotter. Another specialty is Nocino a liquor made from walnuts.
Castelvetro di Modena.
In the Modena province on the foothills of the nearby mountains, originally an etruscan village, the town has a very well preserved medieval castle. The municipality has obtained the orange flag from the Italian touring club as recognition for its lovely landscape. City Of wine and producer of lambrusco grasparossa and trebbiano. Balsamic vinegar and parmigiano cheese are also produced in the area. The Levizzano castle is also worth a visit.
Marano sul Panaro.
On the left bank of the Panaro River, a town of industrial and agricultural excellence. Plenty to offer in terms of historical and natural beauty as well as the long gourmet tradition of the Modena province. A heirloom autochthon wine can be found here, the Festasio.
Pavullo nel Frignano.
A mountain side town with a large area on the crests between Emilia Romagna and Tuscany. It has a remarkable historical and heritage interest, in fact it is dotted with churches and castles.
On the most important is Pieve Romanica, the seventeenth century Church and the ancient Bridge of Olina. Other important sites are Churches of Verica and Montebonello and the Ducal Palace.
The area is particularly poplar with summer visitors and it boots many sport facilities as well as cinemas, restaurants, agriturismo and hotels.
Savignano sul Panaro.
Situated on the right bank of the Panaro river, the medieval town has historical, architectural and archeological interest. The economy is based on agriculture, especially soft fruits are grown here. Wines of the area are Trebbiano, Pinot, Montuni, Albana, Lambrusco Grasparossa and Barbera.
Spilamberto.
The area has been inhabited since prehistoric times. Its economy is based on artisan products which nowadays became the highlights of the local industry. Aceto Balsamico, and Nocino are the 2 most famous products of the Modena area. Spilamberto has the balsamic vinegar museum for anyone interested in discovering secrets behind the making of this condiment.
Vignola.
The town has 20.000 inhabitants. The rocca and castle have historical and architectural importance. Nowadays fruit growing is an important industry in the area. Cherries from Vignola are particularly famous. Also the famous patented torta Barozzi was born here.
Zocca.
Situated 759 metres above sea level, it is a popular tourist destination for those seeking relax and good food. It economy is mainly focused on the production of parmesan cheese, wine and mushrooms. It was names the City of Chestnuts because the production of premium quality chestnuts.
Article by Gabriele Monti