Emilia Romagna by the seasons
There is always something to see and do here, please read our short guide by the seasons.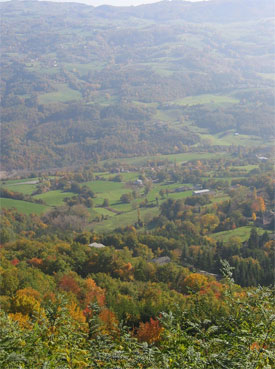 Beautiful day in November - Montefiorino Modena
January
It is ski season on the Appennini range, visit Mount Cimone for good snow and away from the masses.
31st is street festival celebrating San Geminiano in Modena, protector of the city. Street market and food, it is a big celebration.
MOSTRA MERCATO DELL'ANTIQUARIATO E ARTIGIANATO CITTA' DI RAVENNA. Antique market.
Sigep, the icecream expo in Rimini, unique and the largest of its kind.
February.
Antique market in Modena, the largest in the region with 310 stands. Montly every 4th Saturday and Sunday of the month.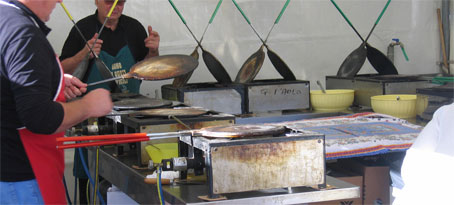 Street food in Emilia Romagna, Borlenghi, Ciacci
April.
World Pizza Championship in Salso Maggiore Terme (Parma). Every year the best pizza makers meet to challenge themselves.
Sagra della piè fritta, Fontanelice (BO). Fried flat bread fiesta with wine and medieval games.
Porcolonga in Zibello, a bike and boat marathon tour to discover the area of the musician Verdi and the Culatello Ham.
Very Slow food Festival Castel San Pietro Terme (BO). The name says it all!
ANDAR GUSTANDO, Reggio Emilia, Cooking accademy and tastings
May.
Festa del Vino, Dozza Bologna. The Medieval town celebrate its wine in the street, tastings and street food available.
Carpi Balsamica. Carpi Modena. Tastings, menus based on balsamic vinegar and cooking classes.
Cantine aperte, the open cellar festival, many wine producers open their doors to the public, last week of May.
June
Sagra del Lambrusco, Albinea Reggio Emilia, Wine tasting and local food street exibition.
Fiera di San Giovanni Spilamberto Modena, traditional food stands, tasting of balsamic vinegar and parmesan cheese.
July.
Sagra della Vongola, Goro (FE). Gastronomic fiesta with artisan food and products.
Sagra delle GalanineMadonna Boschi (FE), han (salama da sugo) and cheese tasting street fiesta.
August.
Final round at Miss Italia to choose the most beautiful Italian girl of the year, held in Salso Maggiore terme, Parma.

September.
Festival of Prosciutto di Parma. 3 weeks long event dedicated to the DOC prosciutto of Parma.
Palio di Parma. Horse race in the center of the town.
Festa del Sangiovese, Coriano. Tasting of local wine, food and artisna products stands.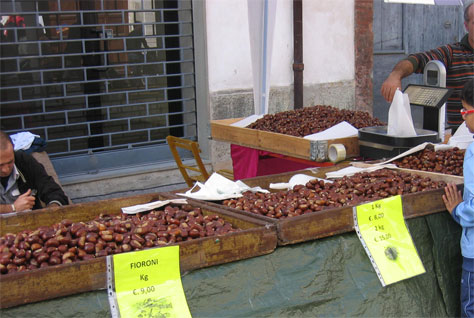 Sweet chestnuts stall in Sassuolo Modena
October.
Soliera cooked must festival, try sughi, saba, and savor sweet specialities made from grape must juice.
Zocca chestnuts festival: chestnuts, marrons, street food stalls, antique stalls. Acient and traditional food specialities, like tigelle, gnocco fritto, streja, ciacci.
Montefiorino truffle festival, food stall, restaurant crawls, sample this fantastic fungus.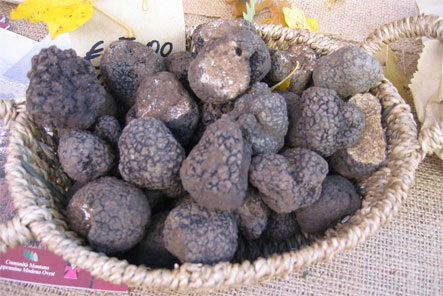 Truffles in Modena - our soil makes the best flavours!
November.
Zibello Novemberpork salumi festival in the low lands of Parma.
Bologna Jazz Festival. Bologna with its long tradition in music celebrate jazz music.
Festa ed San Martein (Reggio Emilia). Rosted chestnuts, mulled Wine, and gnocco fritto. Wine tastings and children activities in San Martino in Rio.
SAGRA DELL`ULIVO E DELL'OLIO, Brisighella (Ravenna), promotion and tasting of this local oilive oil.
December.
Christmas maket and Santa Lucia fair, sweet and candies, Christmas and and nativity decorations in Bologna.
New year Eve in Bologna, with firework display.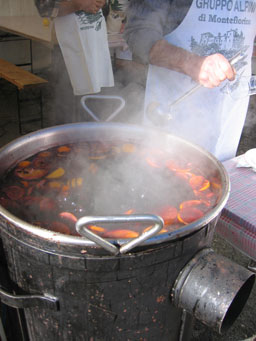 Wine and grape must festivals in Emilia Romagna
Article by Gabriele Monti