Sangiovese and olive oil producer farm stay and wine experience.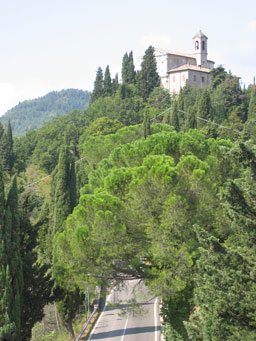 Exclusive Offer
Emilia Delizia has made a deal with one of our producer, this is a unique chance to stay with an organic wine producer and learn about the production of wine and olive oil in Brisighella. The owner Filippo was one the finalist in 2009 for the best Sangiovese wine in Italy in the Gambero Rosso contest. Fillippo will welcome you to his beautiful restored farm and he will take you through each step of the organic wine making process.

The nearby Faenza and Brisighella are strategically located and have easy access to train stations and motorways, you can easily visit Florence (1 hour), Ravenna (45 minutes), Bologna (45 minutes), Rimini (50 minutes), Venice (2 hours) from the agriturismo.
Accommodation in Agriturismo Campiume
Campiume is a totally renovated 15th century chapel on the delicate rolling hills of Feanza. The location is just stunning between olive groves and lines of Sangiovese grapes. It is an ideal location for relaxation, country side walks, cycling, gourmet food lovers, art and history. Also the Adriatic sea is only 40 minutes away.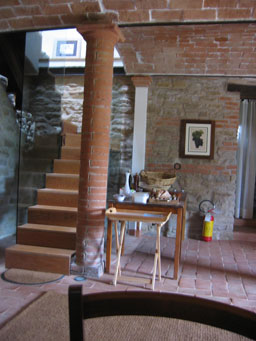 The restaurant at the farm stay.

The Sangiovese experience

3 nights of agriturismo accommodation plus breakfast
One gourmet dinner with the possibility to taste all local produces such as Brisighella olive oil, wild artichoke, Romagna pecorino, Romagna shallots and olives, rare fruits, all accompanied by the farm wine.
Sangiovese wine tasting with guided tour of the farm and wine making process.
Olive oil experience with olive oil tasting
Only 310 euros per person.
Optional
Spit roast and BBQ experience - a local producer will provide rare breed meats.
Pizza making experience - cooking classes learn how to make pizza in the traditional wood fire oven.
Excursions to natural parks, fine pottery producers, visits to stunning villas with Italian style gardens, hidden hilltop villages, pecorino pitted cheese producer visits.

Also planning to go to Tuscany?
Check out our Chianti wine tours and cookery lessons in Tuscany
Transport can be arranged and it is excluded from pricing.
The rooms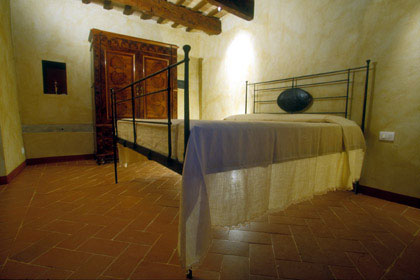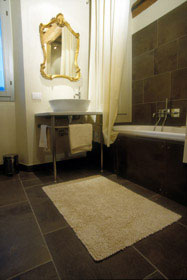 Article by Gabriele Monti